Hug a Pug Today!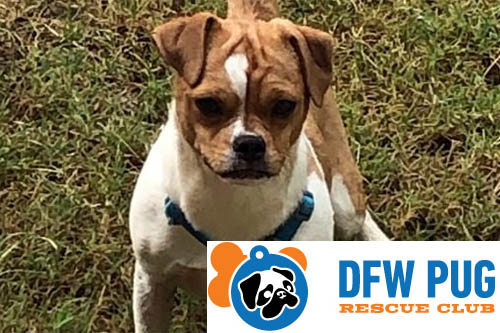 DFW Pug Rescue Club, Inc., (DFWPRC) is one of the largest pug rescue organization in the U.S. Founded in 1997, DFWPRC has rescued and placed thousands of pugs into new forever homes. DFWPRC aims to rescue all purebred pugs regardless of medical condition or age and their mission statement is "No Pug Left Behind." They aim to find and rescue pugs of all ages and physical and medical conditions and find them forever homes.
A non-profit corporation, DFW Pug Rescue Club relies on donations to cover its biggest on-going expense of veterinary care. Ranging from about $12,000 to $15,000 a month, DFWPRC uses about 90% of all donated funds go to veterinary expenses. You can help them out today by subscribing to a monthly donation between $10 and $100 or by donating gas cards for their volunteers.
They love pugs, and most of them are self-proclaimed obsessed with them! From love at first sight to falling in love as a volunteer, a lot of their team members have many pugs themselves. They rely solely on volunteers to take care of all the pugs they rescue. From fostering to transporting to veterinary visits, the team volunteers out of the goodness of their heart and let's be honest, some good old fashioned pug snuggles.
Most of the pugs they acquire are surrendered by their owners for several reasons. The most common reasons include military deployment, divorce, relocation, death, marriage, new baby, and travel. Their mission statement rings true. They leave no pug behind and always find a home for all the pugs they rescue.
The founder of DFWPRC, Fred Campos Sr., became obsessed with pugs when he was young and would go to his grandmothers to play with her pugs. His dream of rescuing all pugs became a reality after he appeared on TV with a regular bearded and top hat donned "Pug-aham Lincoln" to promote the first Pug-O-Ween to raise money. Needless to say, the public fell in love and thus DFW Pug Rescue Club was born!
Depending on how you look at it, unfortunately, or fortunately, many of the foster volunteers became foster-failures in which they decided to keep the pugs they fostered instead of finding them another home. Pugs and their adorable ugliness has captured the hearts of all of the volunteers and that's why they continue to do what they do.
Maybe you're unsure of what exactly the pug breed entails. They're definitely people dogs and were bred to be companions. Pugs are well known to be outgoing, playful, and friendly. They generally come in two colors fawn (tan) and black and are considered medium sized dogs. Like us, they need exercise and they love going on walks with their favorite people. While they are some of the best companions, they do have some health concerns you should consider.
Pugs are known to shed a lot! How could something so small shed so much? Good question. but just consider their fur like puppy glitter to add a little pizazz to your wardrobe. Since they have cute little squished faces, they tend to have numerous breathing issues, including snoring. Sometimes it sounds like the buzzing of a bee and other times it sounds like an old school train! Because of their huge dopey eyes, they can also acquire several eye issues.
If you love pugs and you're looking to help them out, go check out DFW Pug Rescue Club! From simple donations to fostering, there are many ways you can help out. Go hug one of those adorably ugly little pugs today and maybe even bring home a new member of the family.
Check out DFW Pug Rescue Club's website here http://www.dfwpugs.com/