Life is Doughlicious!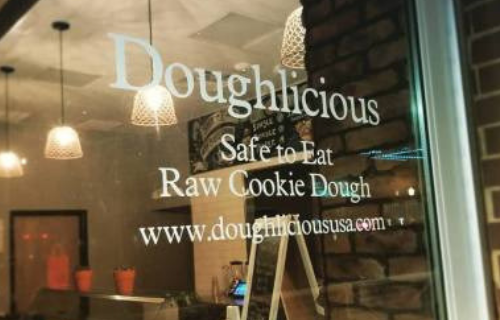 Okay, admit it. We've all eaten raw cookie dough while we're baking cookies. Even though our mommas told us not to because we could get salmonella poisoning. Something that tastes so good could never hurt us, right? Well, maybe or maybe not but who cares! If you do care, though, boy have we got a treat for you! Doughlicious is a new restaurant in Grapevine that satisfies all your cookie dough needs without the pesky risk of getting food poisoning.
They offer an extensive list of services. Their massages include therapeutic massage, Swedish massage, deep tissue massage, prenatal massage, hot stone massage, cold river stone massage, acupressure, Lomi Lomi (a traditional Hawaiian massage), Thai yoga massage, and sports massage. Couple's massages are also an option. They also have massage enhancements including a warm towel body melt, pure essential oil aromatherapy, warm coconut scalp treatment, hot stone relaxer, foot scrub buffer, and back scrub.
Their natural therapies include private yoga sessions, guided imagery/hypnosis, meditation for beginners, meditation to balance the chakras, cupping massage therapy, and Reiki energy working. While most of those treatments are well-known, there are a few you may be unfamiliar with. Cupping massage therapy is a modern take on an ancient form of therapy. A partial vacuum is created and placed on different parts of the body to draw out toxins and such. Reiki is a form of palm healing or hands-on healing in which "universal energy" is said to be transferred through the palms of the therapist to the patient to encourage healing, whether it be physical or emotional. Other treatments include a de-stress facial, microdermabrasion, men's executive facial/massage, and a full body scrub or body mask.
Perhaps the best thing Somar Massage Spa & Natural Therapies offers is reservations for spa parties! Gather between 2 and 10 people and you can reserve the whole spa for a private party. Your party will start in the relaxation room with champagne and snacks while you and your guests chat. You can pick and choose from their extensive list of services to build a custom experience with all of your favorite services. There are also several retreats throughout the year, some are local and some are at the beach or in the mountains.
Doughlicious is a cookie dough restaurant that set up shop in the Fall of 2017 and has grown since then. Their little shop is located right in the middle of Historic Downtown Grapevine on Main Street. Grapevine just had their 35th annual Main Street Fest and Doughlicious was a big part of it. Their cookie dough was a hit for the big crowds. What sets them apart, though?
In our fast-paced society, it's important to take some time to just relax and refocus our energies. Somar Massage Spa & Natural Therapies is open from 9:30 AM to 7:30 PM 7 days a week. No matter what your work or personal schedule is like you can always squeeze in an hour or an hour and a half of complete relaxation with a massage or meditation.
Unlike homemade cookie dough, Doughlicious' cookie dough is 100% safe and guilt-free to eat. What makes their cookie dough safe to eat? They use pasteurized eggs instead of regular eggs. What the heck are pasteurized eggs? They are eggs that have been gently heated in their shells long enough to kill the salmonella bacteria but not enough to cook them. While it may sound simple enough, it is actually quite a difficult task to accomplish at home.
They have 10 flavors on hand in store every day and offer vegan dough as well as a gluten-free chocolate chip flavor! No matter what your preferences or dietary needs, they've got it all. Their flavors right now include chocolate chip, snickerdoodle, sugar cookie, red velvet, key lime, strawberry shortcake, brookie, banana pudding, mint chocolate chip, white chocolate cranberry, brownie batter, hazelnut mocha, thin mint brownie, coconut caramel, Reese's, s'mores, birthday cake, peppermint oreo, and their signature vegan dough. Doughlicious has been known to rotate flavors and introduce limited flavors like oatmeal raisin.
There are several ways to satisfy your cookie dough cravings at Doughlicious. You can get all of their flavors in sizes 1-scoop, 2-scoop, and 3-scoop in a cup, on a waffle cone, an ice cream sandwich, in 16 oz to-go containers, chocolate-dipped cookie dough truffles, and even one-pound, chocolate-dipped cookie dough balls! No matter the size of your cookie dough appetite, Doughlicious has got you covered.
Don't worry if you get there and have no idea which flavor you want. Doughlicious' staff will let you taste as many flavors as you want so you can pick your favorite. Did we mention they cater? That's right. They cater their delicious, completely safe, 100% guilt free cookie dough to any sized event.
Check out their website!