Beautiful Grapevine Botanical Gardens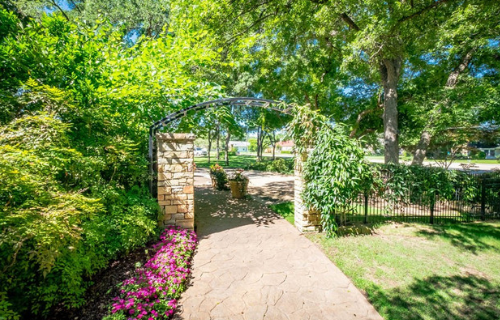 The Grapevine Botanical Gardens are located at Heritage Park. It's a free and beautiful outdoor experience for everybody that's open all year round. Enjoying the natural beauty and tranquility of nature is easy with such a wonderful variety of plants and lovely smells. You can even dance with the butterflies in the enchanting butterfly sanctuary.
Taking the time to relax and enjoy nature is hard, especially when you live and travel in the city. The Grapevine Botanical Gardens is a great little gem in a busy little city. Whether it's Thursday evening on a warm summer day or a cloudy Sunday morning, the botanical gardens offer a sweet little reprieve from the hectic bustling of everyday life.
Many people like to take advantage of the free aspect of the botanical gardens when looking for beautiful spots to take pictures. You have or probably know someone who has taken prom pictures or senior pictures or graduation photos or engagement photos in this beautiful little garden. It's a very popular site that provides picturesque backgrounds for your most Instagram-worthy photos. Since Grapevine is the Christmas Capital of Texas, you can bet you've seen at least one Christmas card with the Grapevine Botanical Gardens in the background!
The Grapevine Botanical Gardens offers more than just a pretty background. There are walking trails, sitting areas, ponds with fish for viewing, beautiful flowers and landscaping, a bunch of trees, and a lot of green space and natural beauty. Taking a stroll through such a beautiful space is one way to spend a breezy Saturday morning with your family or even a chilly Friday night after a date. It doesn't matter what type of occasion you have for visiting the botanical gardens, there's something for everyone!
The flowers and landscaping are so pretty and well-maintained that many visitors take inspiration for their own landscapes at home. Imagine looking at all the beautiful flowers every once in a while and wishing you could have them in your own backyard. Well, you can make that dream a reality! There are so many landscaping companies that can turn your own yard into a small botanical oasis. Grapevine also has a gardening club that was established in 1932 if you decide you want to learn more about gardening with like-minded people.
Don't let the butterflies dance alone! Go visit the Grapevine Botanical Gardens for free today! Check out the website below to learn more about the history but make sure you go experience it too!