Main Street Fest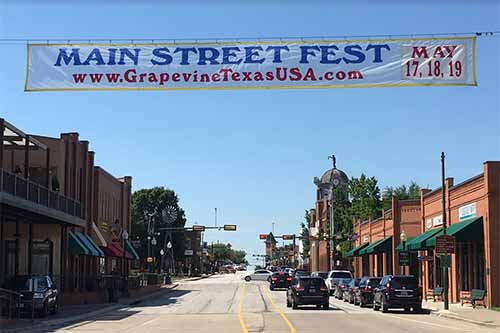 Howdy Grapevine friends! You may or may not know about a little something we like to call Main Street Fest. It's only our 35th annual one, but hey, maybe you just moved here.
Main Street Fest is a three-day long family-friendly festival. We have live music on three different stages and a bunch of festival food you can sample. As you're strolling down Main Street you'll encounter various live performers and street performers so look out for some wacky entertainment!
We have a huge variety of food available at Main Street Fest. From turkey legs, burritos, corn dogs, fried mac & cheese, and hot dogs to sweet treats like cotton candy, snow cones, funnel cake, and Root Beer floats, we've got it all! No matter how hungry you and your kids get, we offer a small feast wherever you go.
For the kids, we have a KidZone featuring live entertainers and even some live animals! Your kids get to experience some of the coolest animals from our SEALIFE Grapevine Aquarium and there's also a petting zoo! Here in Grapevine, we like to let kids get creative with their hands so we have the LEGOLAND Discovery Center's Junior Builder Competition all weekend. We also know how much kids love a little pink pig named Peppa and she'll be available for pictures every day of the festival. Grapevine's own Nash Farm will showcase an exhibit of new baby lambs and other farm animals. And this year we have a new archery activity fit for the whole family presented by Cinnamon Creek Ranch Archery. DFW Child Magazines will be around from 10 a.m. – 4 p.m. on Saturday, May 19th providing kid-friendly, complimentary, silly caricature drawings.
For the adults, our Main Street Fest has coincided with American Craft Brew Week. We have craft brews from more than 36 craft breweries from across 15 states! Not only will you be able to sample brews from across the U.S., but you'll also be able to try exclusive, limited releases and special craft brews that aren't available anywhere but that specific brewery! Just for you, Grapevine Main Street Fest has brought a cross-country experience to our sweet little town. It wouldn't be Grapevine without a lot of delicious wine. We have local wines and other premium wines from across the world! No matter what your tastebuds are craving this fine weekend, we've got you covered!
If you want to experience all Grapevine has to offer, come on down to our Main Street Fest! Bring your whole family to experience lots of cute and fun activities while munching on some great food and wash it down with our awesome variety of drinks from craft beers, local and global wines, and some sweet, sweet lemonade.
Don't just take our word for it, check out some cool pictures down below and stay up-to-date with all our festival shenanigans by following our social media! Make sure to use the hashtags #MainStreetFest and #GrapevineTX so everyone can experience all the fun we're having!
Visit the Main Street Fest website too! https://www.grapevinetexasusa.com/main-street-fest/