Lonestar Adventure Sports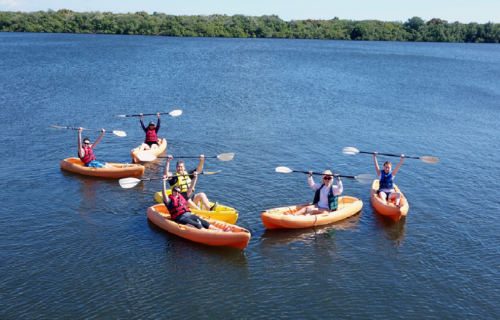 Sports are a big part of our Grapevine community. We are the perfect tournament location for baseball, softball, soccer, and golf. Grapevine offers different types of accommodations and sporting facilities for big and small teams. Our close proximity to major sporting venues is a huge bonus. The Rangers Ballpark, the Cowboys Stadium, and the American Airlines Arena are just a few of the great places we have close to us.
Maybe you prefer watching sports instead of playing them. Many of the restaurants have T.V.'s to show all of the various sports games. Multiple screens are common at a lot of our restaurants. Texas Station at Gaylord Texan Resort, Main Event, Chill Sports Bar & Grill, Flips Patio Grill, Cowboys Golf Club, and all the Buffalo Wild Wings locations have a huge T.V. set up to keep you up-to-date on all the latest sports games while you eat.
Besides traditional team sports and watching sports, Grapevine also offers a lot of outdoor sports fun for the whole family on our favorite lake, Lake Grapevine! One of the best places in Grapevine for all your outdoor sports activities is Lonestar Adventure Sports. They're well-known for their kayak rentals whether single or double kayaks, but they also offer guided hiking tours, paddleboard rentals, Friday night sunset paddle, sunset yoga classes, and a kayak and hike package.
Their prices are also affordable. Single kayak can be rented for 1 hour, 2 hours, 4 hours, ad all day for up to 8 hours. The prices are $25, $34, $53, and $70 respectively. Double kayaks can also be rented for 1 hour, 2 hours, 4 hours, ad all day for up to 8 hours. The prices are $35, $45, $72, and $90 respectively. Paddleboard rentals are the same price as single kayak rentals so you can decide which one is more fun! Safety is, of course, a priority and with every kayak rental, they offer a free lesson, life jackets, and paddles in addition to the kayak or paddleboard.
Perhaps the best thing Lonestar Adventure Sports offers is private party and event reservation rentals! If you're hosting an event or having a party and you want to offer kayak rentals to your guests, they've got you covered. From birthday parties, corporate events, school events, leadership training, city events, special events, education services, private expeditions, or kayak training, Lonestar Adventure Sports will provide the best kayak renting service at Lake Grapevine.
No matter what kind of sports you like to play or watch, Grapevine is a great place to experience it all. Our prime location allows everyone to experience all the best parts of sports. We have lots of places for outdoor activities but Lonestar Adventure Sports might just be the best!
Check out their website for all their cool amenities and book your reservation today!